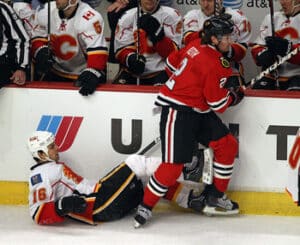 After a disappointing loss against the Los Angeles Kings Monday night, in which they gave up the lead three separate times, the Blackhawks returned to action Tuesday night looking for a much better defensive performance against the Calgary Flames. A great all around performance got the Hawks their fourth shut out of the season.
The Hawks wasted no time getting ahead of the Flames. Just seven minutes into the first period, Nick Leddy got a shot past Flames goalie Miika Kiprusoff to give the Hawks a 1-0 lead. The defense was a lot better tonight by the Hawks as they allowed six shots in the first period. They had another opportunity to extend the lead late in the period on the power play but a few solid saves by Kiprusoff kept the Flames within one after the first.
The second period was even better as the Hawks completed dominated play. The Flames were only able to get just three shots in the third period. Great defensive with few turnovers was a big key to getting Emery his first shut out since February 1, 2010. The Hawks had another golden chance to extend their lead but failed to capitalize on a double minor penalty on Jiri Hudler. Fortunately for the Hawks, Brent Seabrook was able to find the back of the net after a defensive mistake by the Flames.
The Hawks continued to clamp down on the Flames in the third period. But it was not easy as they had  four penalties in the period, including two on Dave Bolland. However, the Flames failed to capitalize on any of their chances are the Hawks got back in the win column with a 2-0 victory. It was a pretty solid all around performance by the Hawks. One noticeable negative about the game was the Hawks inability to capitalize on the power play as they went 0/5 on the man advantage.
Three Stars: 
3. Chi; D Nick Leddy: 1G, 1P, 1HIT
2. Chi; G Ray Emery: 16 Saves, 0GA
1. Chi; RW Patrick Kane: 0G, 2A, 2P,
What's next: The Hawks get a few days off before returning to action Friday night against the Anaheim Ducks. Coach Joel Quenneville did not completely rule out Marian Hossa for the game. Puck drop is set for 7:30
For More Great Chicago Sports Content
Follow us on Twitter at @chicitysports23 for more great content. We appreciate you taking time to read our articles. To interact more with our community and keep up to date on the latest in Chicago sports news, JOIN OUR FREE FACEBOOK GROUP by CLICKING HERE