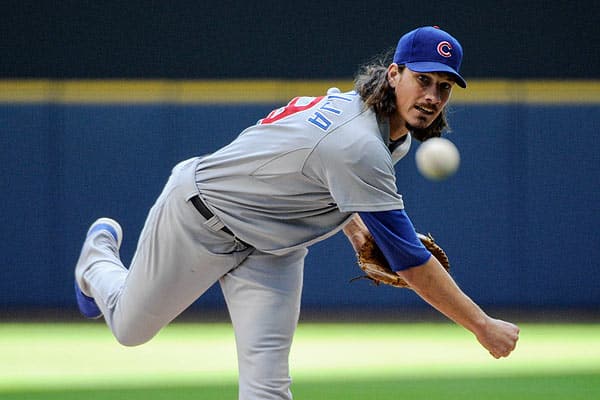 Ace. Untouchable. Centerpiece. All words used to describe Jeff Samardzija. However, it is the general consensus among baseball minds as a whole that Samardzija has not lived up to those billings this season.
He started off strong, posting a 3.35 ERA in April and a 2.31 ERA in May, yet in June his ERA was at 4.20 and it got progressively worse after that. In July his ERA was 5.28 and it is at an atrocious 9.39 in the month of August. Samardzija vowed a comeback after the All Star Break, but he has only gone downhill. Only three of his last eight starts have been quality starts and he hasn't won since July 19.
The Cubs viewed Samardzija as nearly untouchable at the trade deadline and would only trade him for multiple top pitching prospects. Archie Bradley and Tyler Skaggs were being discussed with the desperate Diamondbacks, but a deal never came to fruition. Samardzija's value may have peaked at the trade deadline. The Cubs are faced with the tough task of either trying to extend him or try to trade him in the off-season. Of course, they can do neither, but that will only hurt both sides. Samardzija wants security with a team, whether it's with the Cubs or another team.
As of now, the team still has carried faith in Samardzija, and they still believe he is their ace of the future, despite his 4.29 ERA. This is both in part to Samardzija's fresh arm and the lack of great pitching prospects in the system. However, in order for the Cubs to continue their faith in him, he will need to turn his season around. His stuff is one of a top of the rotation pitcher, but he has been hit hard lately. If he continues to be unable to give his team the chance to win, the Cubs might have no choice but to aggressively shop him in the off-season.
I don't feel that Samardzija is an ace, as he has yet to put up numbers in the big leagues that would convince me otherwise. At his age, his prime would only be for a couple of seasons if he hasn't already reached it. Travis Wood is who I believe the team's ace is because he has shown he can consistently go out there and pitch a great game. He is second in the league in quality starts and always gives his team the chance to win, the key to success for a great pitcher.