Chicago Bears head coach Matt Eberflus sent a serious but honest message to a rookie Sunday. The Bears, who are building their team mainly through the draft in year two of the current regime, are expecting a lot out of this rookie class.
While the Bears should be better than last season, there are good reasons to temper expectations in 2023. The young players on the Bears' roster must grow into their roles as the season progresses. One rookie, the Bears desperately need to pan out, defensive tackle Gervon Dexter, who was taken in the second round in April, is having an up-and-down training camp.
Dexter seemed to disrupt many passing plays during the early part of training camp. However, Dexter is showing he's still raw after the pads came on last week.
Chicago Bears rookie Gervon Dexter is struggling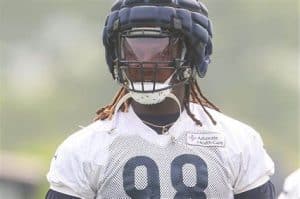 According to Herb Howard with WVON, Dexter has difficulty getting off the ball when it's snapped. Howard observed Dexter is typically the last lineman to jump off the snap during practice.
Rookie DT Gervon Dexter has done some nice things in #Bears Training Camp, but he continues to struggle with his get-off. He is consistently the last person to move after the ball is snapped. Transitioning from his college duties to the NFL is taking longer than I expected.

— Herb Howard (@HerbHoward411) August 6, 2023
It was assumed Dexter's transition off the snap wouldn't be super smooth. He was asked to get off the ball much differently in college at Florida, where he would mirror where the offensive lineman went. The Bears want him to explode and penetrate into the backfield, and Dexter's hesitation is concerning.
Matt Eberflus is worried about Dexter's pad level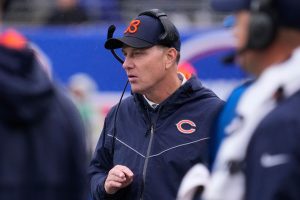 According to Howard, Eberflus discussed where Dexter is after Sunday's practice. Eberflus said Dexter is getting better off the snap but needs to be more consistent. Eberflus is also worried about Dexter's pad level off the snap. Dexter often comes out of his stance high, making it easier for an offensive lineman to control Dexter at the line of scrimmage.
Coach Eberflus on Gervon Dexter's get-off: "It's improving everyday. But, if he wants to be elite, he's gonna have to be more consistent. He's also gonna have to play with better pad level. He's strong enough to win sometimes when he's high, but he needs to be lower." #TheBIGS pic.twitter.com/JqQr4JsKFU

— Herb Howard (@HerbHoward411) August 6, 2023
Dexter still has over a month to go before the regular season starts. He needs to build muscle memory on getting off the snap correctly in pads. There's no reason to be worried about Dexter's development after two weeks in training camp.
Eberflus's criticism of the rookie was honest but suggested Dexter can learn to play defensive tackle correctly. Hopefully, Dexter can become more consistent in this week's practice reps before his first game in a Bears uniform next Saturday.
For More Chicago Sports:
Follow me on Twitter at @JordanSig, and follow us @ChiCitySports23. You can also reach out to Jordan Sigler via email at jordanmsigler@gmail.com. To read more of our articles and keep up to date on the latest in ALL of Chicago sports, click here! Chicago Bears, Chicago Bulls, Chicago Cubs, Chicago White Sox, Chicago Blackhawks.
For More Great Chicago Sports Content
Follow us on Twitter at @chicitysports23 for more great content. We appreciate you taking time to read our articles. To interact more with our community and keep up to date on the latest in Chicago sports news, JOIN OUR FREE FACEBOOK GROUP by CLICKING HERE