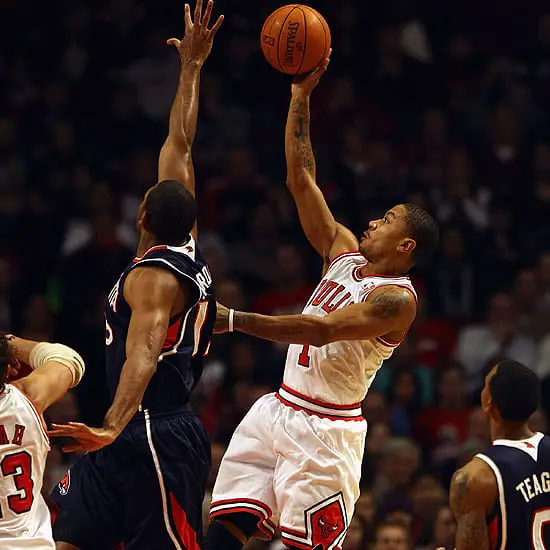 If the Chicago Bulls were on a boat, they would not have been able to throw the ball in the ocean.  That's how bad their shooting was over the course of the first three quarters.
There was even a stretch where the Bulls shot a mere 2-for-21 from the field.
That is when the reigning Most Valuable Player, Derrick Rose, decided that enough was enough and led the Bulls back from a 19-point third quarter deficit.
Rose just started getting hot from downtown and sparked the frustrated crowd in the United Center into a fevered pitch.
Omer Asik also helped the Bulls claw their way back into the game with his tenacity on the boards, after the Bulls' starters let Al Horford, Josh Smith and the Hawks batter them on the glass.  Asik came in the game and blocked three shots and pulled down nine rebounds.
The Hawks also had their helping hand in the Bulls' comeback by missing free throw after free throw.  Hawks' guard Jeff Teague missed two free throws that would have given Atlanta a three-point lead with only 17 seconds left.
Instead, Derrick Rose got the ball, on the Bulls' ensuing possession, and finished with a floating lay-up that lifted just over the top of the contesting Josh Smith to give the Bulls a 74-73 lead.
Al Horford turned into Luol Deng and Deng was called for the foul.  Horford then missed yet another free-throw before hitting the second one to knot the score at 74-74 all.
Joakim Noah checked back in the game and receive the ball at the head of the key and glanced towards Rose.  And as all Atlanta Hawks' eyes were directed at Rose, Noah then dished the rock inside into the hands of a cutting Deng who gave the Bulls the lead and, ultimately, the win – 76-74.
Rose finished with 30 points and seven assists.  Without his heroics, the Bulls likely would have been blown out of their own building instead of improving to 5-1 on the season.
The Bulls will travel to the Palace of Auburn Hills to battle the Detroit Pistons tomorrow night.
For More Great Chicago Sports Content
Follow us on Twitter at @chicitysports23 for more great content. We appreciate you taking time to read our articles. To interact more with our community and keep up to date on the latest in Chicago sports news, JOIN OUR FREE FACEBOOK GROUP by CLICKING HERE