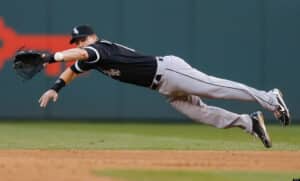 The White Sox continued their free fall to the AL Central cellar against Seattle after getting swept by the Cubs and Oakland. The first two games were just pitiful showings by the White Sox, both on the mound and in the batter's box. The Sox offense seemed like they were hell bent on keeping the score close, but not doing well enough to put the team over the top. The starting pitching ate innings and kept the team in the game, but just couldn't get the win. The fact is, this team doesn't seem to want to win, and it's a very frustrating thing for fans on the South Side to see. But enough if this talk. Instead I will focus on the five hour and forty-two minute win that the Sox got on Wednesday, because it was a doozy of a game.
The game started out as a pitching duel between Hisashi Iwakuma and Dylan Axelrod. Axelrod departed in the sixth inning and Iwakuma left after the eighth. The bullpens took over for the workhorse starters and continued their respective gems into the fourteenth inning. In the fourteenth, Alex Rios opened up the scoring by singling home Alejandro De Aza. Four runs later and the Sox were headed to the bottom of the fourteenth up 5-0 with the Mariners' 7th, 8th, and 9th place hitters up.
With the closer, Addison Reed, on the mound the lead seemed all but secure, but the Mariners wouldn't go down that easily. After getting the lead-off hitter of the inning out, Reed gave up four straight single to give the Mariners a run. Reed seemed to settle down when he struck out Jason Bay to get the second out. Now, all that stood in the way of Reed and the save was Kyle Seager. However, this wasn't a day for fairy tales and Seager proceeded to hit a game-tying grand slam, the first ever game-tying grand slam in extra innings in MLB history. The White Sox would have to start from scratch again.
Thankfully, the White Sox would wrap up the game in the sixteenth and walk away with a win to snap their eight straight game losing streak. This was also the first time in the MLB history that both teams scored five-plus runs in the game after being held scoreless through nine innings. Only teams as bad as the White Sox and Mariners could have provided a game as bad, yet good as this one. Unfortunately the tide seems to have already turned against the White Sox who have to face the same Oakland A's team who swept them last week today. Hope for the best, expect the worst Sox fans.
For More Great Chicago Sports Content
Follow us on Twitter at @chicitysports23 for more great content. We appreciate you taking time to read our articles. To interact more with our community and keep up to date on the latest in Chicago sports news, JOIN OUR FREE FACEBOOK GROUP by CLICKING HERE