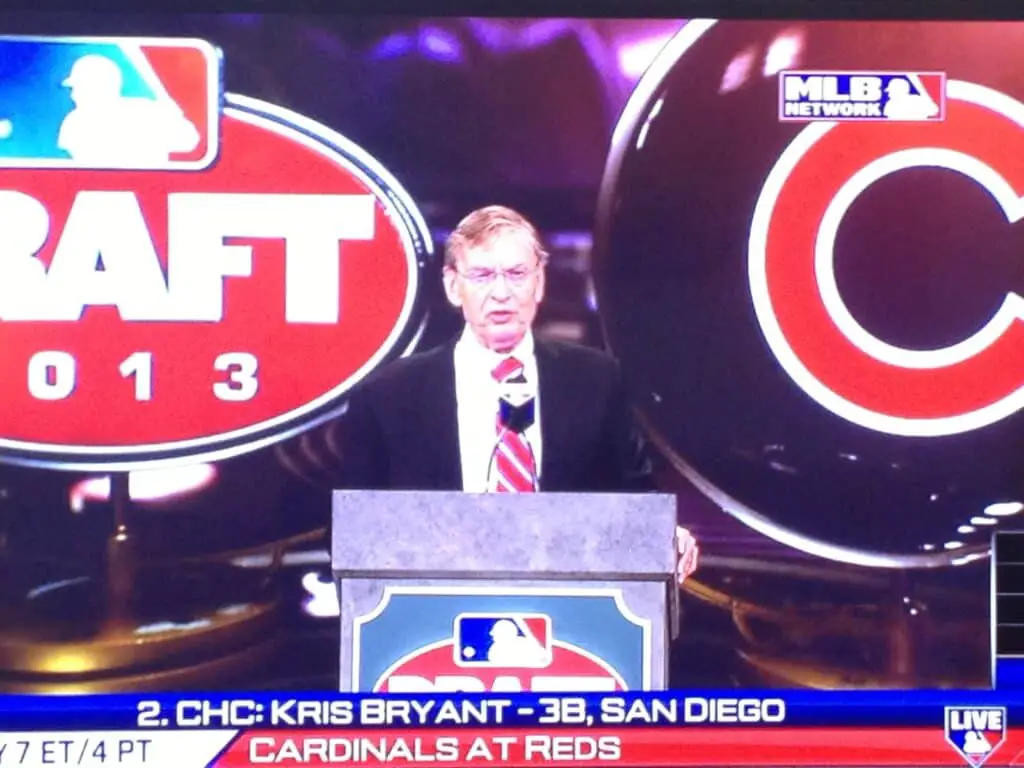 In 2003, the Seattle Mariners drafted Adam Jones 37th overall with the final pick in the first round of the Rule 4 Draft, more commonly known as the First Year Player Draft, or simply the MLB Draft. Ten years later, he is arguably the best player taken in that first round, with apologies to Rickie Weeks. So how were 36 players selected before Jones, including some guy named Kyle Sleeth, who the Tigers took 3rd overall?
Well, the MLB Draft just happens to be the most important crapshoot in professional sports. Scouting baseball talent is much more challenging than basketball or football; the players are expected to physically mature and hone their craft over the course of multiple seasons before cracking a major league roster. If either of those fail to occur, or if they are injured, a career can be over before it even begins.
Teams are playing the percentages, making assumptions, and hoping to God that a 17-to-22-year-old will beat the odds and contribute to their big league club someday. Sometimes, a prospect's talent is undeniable (see Griffey Jr., Ken). Unfortunately, the Jr.'s of the world only come along once in a great while, and only those blessed with having the worst record in the game during the previous season are lucky enough to have a chance at nabbing a franchise player. Other teams have to take a gamble on a player with the thought that if he reaches his ceiling, he can be a perennial All-Star. At least, that is the hope.
That's a funny thing, isn't it? Hope. When you boil it down, it's really the only thing that keeps us going sometimes. What other explanation do you have for rooting for a professional sports team other than you hope they somehow beat out 29 to 31 other professional teams and win a championship? Sure, the camaraderie and fan experience are great, but deep down we all hope that one day we can watch that penultimate dog pile on the mound at Wrigley after the Cubbies win it all. Many times, that journey starts with the draft. Even if we know half of the players taken in the first round might not play a game above Double-A, for tonight, for this one night, we have an overwhelming feeling of hopefulness.
That's the damndest thing of them all. You don't expect the 37th pick in the NFL or NBA draft to ever turn into the cornerstone of your franchise, something Adam Jones is becoming for Baltimore. Hell, when Mike Piazza is taken in the 62nd round, 1,390th overall, anything can happen. So that's why I'm holding on to hope that tonight is a game-changer for the Cubs. With their highest pick since they took Mark Prior with the 2nd overall pick in 2001, we have reason to believe.
Still, there's the chance we end up with another Josh Vitters, or worse, Hayden Simpson (damn you Jim Hendry). Are you asking yourself who those guys are? Good, don't even follow those links. Do you know who they are, and you're asking yourself why would there ever be a reason on God's green earth that the Cubs would draft them? Trust me, I have asked myself the same question, and that's why I'm writing this piece tonight. I refuse to look back on the 2013 MLB Draft and wonder why we did whatever the Hell we are about to do. I need to know how I was feeling, and what I was thinking. For my own sanity. So join me, as I react, pick by pick, and wonder how we will look back on June 6th, 2013. I'm feeling anxious, excited, hopeful, and a little nauseous (nausea due to a bad microwave dinner). Without further ado, my first annual MLB Draft Timeline.
5:28 Turned on the TV and MLB Network has a nifty preview for us.  The draft has only been televised since 2007, thank God. I don't need video evidence that the Cubs ever drafted Mark Pawelek. I did enjoy watching last year, even if I was upset at the time that the Cubs didn't take Mark Appel over Carlos Correa. Don't worry, we have a shot again this year. C'mon Houston, draft as poorly as you play!!!
5:42 These AT&T commercials with the condescending monotone guy in a suit are starting to really bug me. We should tape a cheetah to him so the cheetah would either run away with him or eat him. Side note: it's pretty depressing to hear that kid say that his Grandma is slow. Poor taste, AT&T.
5:47 One of the MLB Network analysts just previewed the "top arms" in this draft, went six players deep, and failed to highlight Kohl Stewart. I read something today that said he would be the top pick (and will still be a top-10 pick) if it wasn't for his inconsistent command. Seems to me that you should highlight a kid with a high 90's fastball who hasn't yet been to his senior prom.
5:59 They just showed Houston's war room. There was an attractive woman standing in the middle, seemingly out of place, talking to the brass. Did Theo plant her there to distract the Astros into picking Colin Moran?
6:00 Chipper Jones just did a weird monologue about the kids enjoying the moment. This is not for the kids. This is so I can pretend Mark Appel is going to start game one of the 2018 World Series for the Cubs.
6:03 I wonder if the Astros have made a choice yet. Insiders say that teams wait until the 11th hour, that they didn't decide on Correa until minutes beforehand last year.  GrayGrayGrayGrayGray.
6:04 My obsession with Appel is dumb. This whole thing is a damn crapshoot.
6:04 Is that Kerry Wood at the Cubs draft table? What is going on? He's one of my favorite Cubs of all time, but he also barely has an elbow! Is this good or bad karma?
6:05 My microwave dinner is starting to badly upset my stomach. Or maybe it's the possibility that the Cubs royally screw this up again.
6:06 Selig's opening comments: He thanks everyone for "growing the draft." Good point. This wasn't a big deal at all a decade ago, and yes it was and is somehow the most important crap shoot in professional baseball.
6:06 The Astros are on the clock. HAVE I MENTIONED THIS IS A CRAPSHOOT?
6:06 Analysts wonder if the next Strasburg or Harper will be taken. HMMM. PROBABLY NOT. They are once (twice?) in a generation talents. Just because someone is #1 or #2 overall doesn't make them automatically relevant. Just ask Tim Beckham or Matt Bush or Bryan Bullington. Who, you ask? Exactly.
6:09 Having nightmarish freakouts about Josh Vitters.
6:10 Oh God, here comes Selig.
6:11: Appel goes No. 1. God. Damnit.
6:12 Everything is OK! The analysts just compared him to Mark Prior! If they had done that after the Cubs picked him, I may have jumped off my balcony.
6:12 Oh wait, if Dusty Baker had not ran Prior's pitch count up in every damn start down the stretch in 2003, maybe he would still be pitching on the Northside. Sh*t. I don't know what the hell is going on anymore.
6:14 If the Cubs take Gray, I will be OK with it. He is clearly the No. 2 choice here, a college arm with No. 1 starter upside. Some people liked him more than Appel. If they take Bryant, I'm also OK with it. Anything outside that… it's a wait and see. And I will be a nervous wreck during Player X's development.
6:17 Cubs are taking longer to pick because they expected Appel to fall… here comes Bud. Cubs select… Kris Bryant.
6:18 IT'S VITTERS ALL OVER AGAIN
6:18 NOOOOOOOOOOOOOOOOOOOOOOOOOOOOOOOOOOOOO
6:19 His teeth are very white. They make me uncomfortable. I think I'm overreacting but I'm not sure.
6:19 They are calling this a "safe" pick. I feel good about that, but dammit I wanted a frontline starter.
6:20 They just  showed a slow motion video of his swing, and I am impressed. Good mechanics, and his 6'5" frame provides a lot of torque, leading to power. He had 31 bombs this season in 220-something AB's at the University of San Diego. I like that too.
6:21 Rockies take Jonathan Gray. Fairly obvious pick. He was a top-two talent after all.
6:22 Envisioning a nightmare scenario where the Cubs and Rockies are playing in the NLCS in 2018. Jonathan Gray is still in the game in the 9th inning of Game 7 with his Rockies up 1-0. With two outs, Kris Bryant steps to the plate and fans on 3 straight 100 MPH fastballs. I'm going to just go to bed and pretend I root for a winning baseball team.
6:26 Cracked my first 312 of the evening. If the Cubs take Manaea in the 2nd round, the Hawks lose Game 4 of the WCF to the Kings, and the Heat beat the Spurs in Game 1 of the Finals, I won't have the gross motor skills or cognitive ability to finish this piece.
6:28 The Twins take Stewart. High upside pick. Stewart is talking about watching Josh Beckett as he grew up. He has a commitment to Texas A&M to backup Johnny Football at QB. I think he signs but it will cost them. The Twins have a strong, underrated system.
6:29 Appel is on the phone with the analysts. He is excited to "go home" to Houston. This guy majored in Management Science and Engineering. AT STANFORD. Is this another Andrew Luck type guy? Sonofabitch.
6:30 But hey, I'm sure Kris Bryant did something cool at USD (Googling…)
6:31 From Bryant's Wikipedia page:
"Bryant was named his high school's salutatorian, but allowed a classmate to take the role instead when he found out how badly she wanted it.[8] In college, he majored in biology before switching to finance.[2]
His father, Mike, played in minor league baseball for the Boston Red Sox organization.[2][12] Mike owned a patio furniture store, but sold it in order to get a job that permitted him to coach his son.[13]"
6:32 I don't know what to think about the salutatorian thing. Why does some girl SO BADLY want it? It's not like you're the valedictorian. I do like his father's sacrifice to sell his business to coach his son.
6:33 Indians take Clint Frazier with the 5th pick. A lot has been made recently, for some reason, about the lack of red heads in MLB. He does have a weird smile. They just played his interview, and he is having a tough time… well… talking. Wow, his hair is very, very red.
6:37 Interviewing him live in the studio, he has said "it's a dream come true" twice already. His answers are short and sweet, but damn his hair is loud. I wonder why mock drafts had Frazier going so far down, two of them at 7 and 13. His swing does look impressive, and his player comp is Mike Trout, according to this damn show. Well, I'LL TAKE TROY GLAUS OVER MIKE TROUT. I guess I have no choice.
6:42 Marlins take Colin Moran. He was my least favorite of the top 10 draft prospects, he has red hair, and I was not impressed with his swing.
6:44 Interview with Astros GM Jeff Luhnow: "…best move to make this year. I feel like I'm a veteran picking (first overall)." Well, that's definitely something that isn't good to practice. Last GM to select first overall two years in a row? Mike Rizzo. The picks? Strasburg and Harper. Somehow I don't think Luhnow got that lucky, but Correa and Appel are nothing to scoff at. Wait a minute, does that mean I'm happy the Astros are out of the NL Central? What sort of twilight zone is this? Hold on, I'm going to grab another 312.
6:49 Red Sox take Trey Ball, a 6'6", 180-pound lefty pitcher/OF from a high school in New Castle, Indiana. His dad didn't allow him to throw a curve until junior year in high school to save his arm. I LOVE THAT. Ever wonder why so many pitchers are having Tommy John surgery before their 24th birthday? Not learning how to properly throw a curve and not allowing their bodies to develop fully. Good job, Trey Ball's father.
6:50 Trey Ball compared his style of pitching to Cliff Lee. Interesting. Ball does top out at 93 MPH and has a similar curve… but the draft is a crapshoot. Should the Cubs have taken Ball? (Cut to an image of people laughing in 2013 before cutting to an image of me crying softly and nodding in 2018)
6:53 Dale Earnhardt Jr. is a sellout. HOW DARE YOU support Diet Mountain Dew? We all know it tastes like crap, stop trying to convince us you would trade your car for a 20oz. bottle. "Don't tell me you got the last Diet Dew?! I love the taste of Diet Dew." You f**king liar.
6:55 I wonder why Austin Meadows hasn't been taken yet.
6:56 Royals take Hunter Dozier. First large surprise, two of the analysts ranked Dozier at 40 and 46 overall. Jim Callis informs us that the suggested slot worth is $3.8 million and the Royals can pay him half that, as he would have been taken near the end of round one. Now they can overspend on later picks. Don't you want the best player on the board? Talent drops off significantly after the first round… they have something up their sleeve.
6:57 Interview with Kris Bryant over the phone: He is "completely ecstatic" the Cubs want him at third base, as that's where he wants to play. "Changed my approach… biggest thing was focusing on hitting mistakes that pitchers throw." I like what I hear.
7:00 Pirates select Austin Meadows. That didn't take long. This was the 9th overall pick, compensation for failing to sign Appel last year. I wonder how much that will hurt the Pirates down the road, watching Appel dominate.
7:01 Austin Meadows has the appearance of a ballplayer. In contrast, Clint Frazier looks like an accountant. Maybe it's his red hair? Am I falling into the old-time scouts' mindset?! Well Frazier was compared to Trout, while Meadows was compared to Tyler Colvin (hahahahahah) and Jacoby Ellsbury. When was the last time those two were in the same conversation? The MLB draft is weird.
7:02 McCutcheon and Meadows in the same OF in Pittsburgh scares the Hell out of me. Also, Meadows says he likes to "hang out" with his girlfriend in his spare time. 'Atta boy Austin. I wonder if Clint has ever had a girlfriend.
7:04 I'm switching to Honker's Ale. Goose Island is a helluva company.
Nine picks into the draft, and I am amazed at the number of times I've already wondered if the Cubs missed out on some superstar talent. It was only four years ago, but don't the Orioles have to be kicking themselves for taking Matt Hobgood with the fifth overall pick, just before Zack Wheeler at six and Mike Minor at seven? Could Meadows be the only worthwhile pick in the top 10? How have teams not done a deep analysis of why top picks flame out? This would not work in any other business. I've heard that top hitting prospects have a better shot at successfully reaching full potential than pitching prospects, but that's about it. Hey, Kris Bryant is a hitter! (bad attempt at optimism)
7:05 Blue Jays take Phillip Bickford, projectable righty high school pitcher who tops out at 97 MPH on the radar gun. 10 of the last 11 first round picks of the Blue Jays have been out of high school. I think they have serious upside here. They are currently developing Aaron Sanchez and Noah Syndergaard, and Bickford will be in the same situation.
7:07 The MLB Network analysts are Skyping with Kohl Stewart. I like that pick a lot for the Twins. Says his arm is more durable from throwing a football. I get the impression that he is signing with the Twins, as he keeps referring to the Aggies coach as a "good guy" and "first class individual who will support him throughout the process." I think they will be just fine without Kohl.
7:10 With the 11th selection, the Mets take Dominic Smith, 1B, from a high school in California. Says he models his game after Robinson Cano, Carlos Gonzalez, and Mark Teixeira. He is having trouble speaking, along the same lines as Clint Frazier. At least he doesn't have red hair.
7:11 I feel better about how the Appel/Bryant/Gray situation played out, if only because they were clearly the top three talents heading into the draft and all these high school kids are projects. You never know what you're getting out of an 18-year-old. I guess I like the idea of a 21-year-old who hit 31 bombs last year. Jesus, I hope this isn't the second coming of Vitters.
7:22 Mariners take DJ Peterson with the 12th pick. Analysts call him arguably the best pure hitter in the draft, but in his interview he says his "favorite movie is Dumb and Dumber… I have the memory of a goldfish." Hmmmm. The jury is still out on this one.
7:23 Peterson's swing is almost identical to Michael Cuddyer's. After he was drafted, they showed his reaction live, surrounded by his family. Clearly emotional, he embraced his brother, who they say will also be drafted this year. Good for that family.
7:26 Padres take right fielder Hunter Renfroe from Mississippi St. University, 13th overall. Talk about an unexciting pick. Outside of being the state of Mississippi's all-time home run king, he screams "flameout".
7:26 Just because I wrote that, Hunter will be the next Mike Trout.
7:26 The Cubs should have taken Hunter. What a name. He's a gamer, scrappy, has great tools. Have I said the MLB draft is a glorified crapshoot? Honker's Ale.
7:28 "The Pirates get to pick again? That's not fair!" -Idiots on Twitter. They only get to draft twice in the first 14 picks because they failed to sign Appel last year. If he turns into the pitcher we all expect him to, no amount of No. 9 overall picks will fix that.
7:29 Pirates take Reese McGuire with the 14th overall pick. Highest a high school catcher has gone since 2008. He looks like he has a good head on his shoulders, and is an excellent defender. Damn good pick if the hitting develops. I wonder how many no-hitters Gerrit Cole will throw to Reese. Damn, I really don't want to play in the same division as Pittsburgh anymore.
7:35 Diamondbacks take Braden Shipley, Nevada righty. He converted to a pitcher from short after his freshman year.  An analyst shared a special moment with Shipley after his selection, winking at him on live TV. Watch closely as the analyst gives a warning glance at his compatriots, as if to say, "Watch this!" He then struggles to both wink and continue talking at the same time, after cracking a lame joke (was he making a pass at Shipley?!?). Shipley immediately glances to someone off-camera, when he realizes a middle-aged man might be hitting on him. He then struggles to sign off without breaking out into laughter. Overall, my favorite moment of the night so far.
7:43 Phillies take JP Crawford, cousin of Carl Crawford. LOVE his demeanor and the fact that he seems like he will be staying at SS. Something (by something I mean literally a gut feeling, nothing more) tells me this kid is going to be one of the picks that we look back on in 10 years and wonder how he fell to 16th.
7:44 Sorry JP, I think I just jinxed your entire career. I feel bad about that.
7:51 Weird, unrelated tangent, but I wonder how many of these draft picks will take steroids/PED's at some point in their career. A lot of fans thought the game cleaned up after Bud imposed penalties and a drug testing program, but even guys who have been drafted or signed in the last 5 years may be implicated in the recent Biogenesis scandal. I hope the game cleans up, and I hope these kids continue in the footsteps of young guys like Trout and Harper. I hope they're clean too. Alright, enough depressing topics of conversation. Let's draft some more girlfriend-less red heads!
7:55 The woman who does the post-pick interviews with draftees who attended the draft keeps telling them to "make it official" and put a sticker with their name on it on a draft board next to their team. That would be a pretty nerve-wracking event if that is what actually made the pick official. What if Appel tripped and accidentally stuck his name next to the Cubs logo?! That would be quite the thing to witness as Jeff Luhnow. This is a stupid hypothetical.
7:57 Wondering when Sean Manaea will be taken. I definitely think he could fall out of the first round, unless some team feels good about a torn labrum in a hip. Are the Royals planning to wait until the second round to overpay Manaea and underslot Dozier? Hmmmm. The Royals do love injured pitching prospects.
7:58-8:10 White Sox take Tim Anderson, Dodgers select Chris Anderson, and Marco Gonzales goes to the Cardinals. Unrelated: I can't stand LeBron James. I select a Budweiser, 6th overall. Goose Island just had too many impact brews in this year's class for a diesel to crack the top five.
8:12 things just got more complicated. The Hawks game just started, and their shot at the Cup is the only thing I have going for me in my life right now, besides the Cubs drafting Josh Vitters second overall ahead of Jonathan Gray. Sorry, I meant Kris Bryant. Oh God, that might happen a lot.
8:13 Game One of the NBA Finals just tipped off as well. Tim Duncan is 14 seasons removed from his first finals appearance, LeBron still trying to shut up his haters (not going to happen). Intriguing matchup. Spurs are up 11-9 early.
8:14 Tigers take Jonathan Crawford, RHP, Florida. Power arm, but profiles as a bullpen guy. They love their flamethrowers.
8:15 The Rays take Nick Ciuffo, a high school catcher from South Carolina. The Rays are superb at drafting, and I would not be surprised in the least if he turns out to be one of the steals of this year's first round. Also, his interview was all over the board. Not only did he inform us that he can wiggle his ears, but that his grandfather was the most influential person in his life.
8:18 Kings score first and are up 1-0 on my Hawks. Keith is out tonight serving his one game suspension for hitting an LA player with his stick. Seriously? This is hockey, not soccer. Toews and Kane need to show up tonight. It's been a while since they had an impact.
8:21 Orioles take Hunter Harvey, RHP, from a North Carolina high school. He struck out 116 in 54 and two-thirds innings. Holy Moley. Baltimore must be hoping for another Bundy. One downside: he has not made his ear-wiggling ability clear at this time. Also, his hair has a red-ish tint.
8:22 That's three 'Hunter's' taken in the first 22 picks. I predict that at least one of them is a perennial All-Star by 2020. No reason, besides the fact that I love that name for a ball player.
8:25 Rangers take Alex Gonzalez, frequenter of my nightmares.
8:26 Sorry. I think I made a mistake. This is not the AGon that failed to turn a season-saving, franchise-altering double play, this is the RHP from Oral Roberts. My bad.  It is interesting to note that in the video to which I linked above, the announcer says they would not have turned a double play with Cabrera running to first, but they would have definitely gotten the force at second base. CouldaWouldaShoulda. Damn it all.
8:27 (Searching for words…)
8:28 Give me peace, Goose Island.
8:34 Bickell!!!!!!!! How lucky can a guy get?! I love it. Bickell scores on a knuckle shot off the glove of Jonathan Quick. There is quite the contingent of Hawks faithful in LA. I love my city and its fans.
8:35 I feel 587324987% better about everything tonight. Kris Bryant is a perennial All Star. Well done, Theo.
8:38 A's take Billy McKinney, Giants take Christian Arroyo. Getting to the point where I know almost none of these names. I will say this: Oakland probably just drafted an All Star. Damn you and your incredible drafting, Billy Beane.
8:43 Yanks take Eric Jagielo, a third baseman out of Notre Dame. By far the worst pick of the draft. After all, as Gordon Gee says, you just can't trust those damn Catholics.
8:46 Notre Dame is the worst.
8:46 End of the 1st Period, Hawks and Kings tied at one goal apiece. Meanwhile, in Miami, the Heat have a 38-29 lead early in the 2nd. I don't think there are worse fans in any sport than those who come out (sometime around the end of the 1st) to cheer on the Heat.
8:47 LeBron James is the worst.
8:48 If Jimmy Clausen and LeBron had a love child, it would be the Anti-Christ. What's that? He was at Game 7 of the Eastern Conference Finals? Oh, Oh my God…
8:54 The Winking Bandit from earlier has been identified as Greg Amsinger of MLB Network. In 2008, he hosted the Tour de France and the World Series of Video Games. You can't make this stuff up.
9:04 Heat up 48-42. Tim Duncan looks like his vintage self, but somehow the Miami supporting cast is coming through. Hawks and Kings are back on in the 2nd.
9:05 And we are officially way off topic. Looks like Sean Manaea won't have me around to witness to his second round selection. With that, I'm signing off until next year. Kris Bryant, don't let me down.
For More Great Chicago Sports Content
Follow us on Twitter at @chicitysports23 for more great content. We appreciate you taking time to read our articles. To interact more with our community and keep up to date on the latest in Chicago sports news, JOIN OUR FREE FACEBOOK GROUP by CLICKING HERE