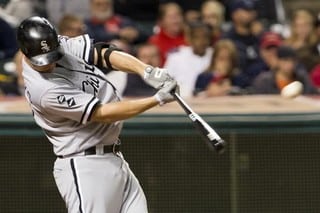 Photo: Photo by Jason Miller/Getty Images
Pushing through June, the White Sox find themselves last place in the AL Central. You don't need to be an ESPN sports analyst to see that this is a struggling team who gives fans little reason to believe these days. This season's been tough to watch for Sox fans, but the fight isn't over yet. With Detroit a good step ahead of the league, the other four teams currently sit within four games of each other, all with win percentages just under .500.
While hard to watch at times, the season hasn't been a complete bust–but there are some definite learnings to consider as we move forward:
1. Lifeless bats are losing games. The White Sox continue to fail when it comes to hitting. Up and down the lineup, there is trouble getting on base and even more trouble driving those base runners in. They are currently ranked last in the American League for runs scored, and second to last in hits. You can't argue those statistics. Get these boys to the batting cages.
2. Alex Rios is still hot. But from those sad bats rises Alex Rios, currently leading his team with a .293 batting average. After a good run in the 2012 season, he's back to show everyone that last year's success was no fluke. Rios is a solid outfielder too, with only two errors this season and several stellar defensive plays. He's just a player Sox fans can feel good about.
3. And Chris Sale is hot too. A lot of fans are quick to point accusatory fingers at the bullpen, but in looking at the stats, I don't see that to be the case. Lefty ace Chris Sale (5-4, 2.68 ERA, 72 SO, 0.92 WHIP) still has it going on, but he doesn't have the offensive support to bring in the wins. You could say that's the case for most of the starters, who aren't horrible pitchers or anything, but just don't get that run-support. Sale has so much potential and skill, but it's a shame to see it wasted on errors and lack of hits.
4. There is no solid lineup.  It used to be that every starter had his spot, and the only changes were for injuries or rest-days. But these days, I never know what to expect when I check the lineups before a game. Sure, Alexei Ramirez will stay at SS and Konerko won't leave 1B, but sometimes I look at the lineup card and go "who is that guy?" Consistent lineups can be a tough bond to break when in sync, but playing around with the batting order daily and testing out catchers this far in to the season isn't going help anyone. Which brings me to my next point—
5. We need an ace catcher. Things have been a little less fiery behind home plate since A.J. Pierzynski left for the Texas Rangers. While Tyler Flowers (or Hector Gimenez, depending on the day) gets the job done, at the end of the day you want someone who can command the field. Granted, it's only halfway through the season—and he's new—but he's nothing special. But with that said, I'd totally be okay if he turned things around and proved me wrong.
6. This may be Paul Konerko's last season. The main reason I still go to the games every week is to see Paul Konerko, because I would hate to neglect his last season after a renowned career.  While there have been no official statements on whether Paulywood is ready for retirement, you have to consider that his contract is up at the end of the season and he is only batting .231 with six home runs right now. Konerko is currently just 28 home runs short of passing Frank Thomas for most White Sox homers, and holds the record for most hits in a White Sox career. Such a Chicago sports legend deserves to go out with style, which is one of the main reasons I desperately want the Sox to turn the season around.
For More Great Chicago Sports Content
Follow us on Twitter at @chicitysports23 for more great content. We appreciate you taking time to read our articles. To interact more with our community and keep up to date on the latest in Chicago sports news, JOIN OUR FREE FACEBOOK GROUP by CLICKING HERE