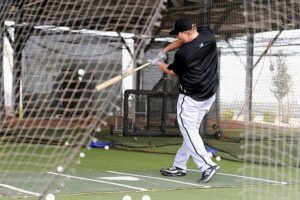 The smell of freshly mowed grass is beginning to accumulate in Glendale, Arizona. White Sox pitchers and catchers will report in two days and begin the grind to another AL Central title. However, the fate of the White Sox will be decided in Spring Training as the White Sox invite their 40-man roster along with non-roster invitees to see who will best fit the mold for Robin Ventura and his coaching staff. Spring camp is also a good way to evaluate the Sox at each position and how they did in the offseason trying to upgrade that position. This will only address the hitters as I will do the pitchers at a later date.
At catcher, barring a move before camp breaks, Sox fans will see Tyler Flowers handling the pitching staff. Flowers does not currently command the confidence of many White Sox fans but Rick Hahn has defended the catcher and says he has faith in his abilities. Flowers, in past seasons has shown flashes of Adam Dunn-like country power. Sox fans have seen him absolutely obliterate foul balls and if he can translate that power to hitting balls on the fair side of the foul poll then the Sox might be on to something. Backing up Flowers will be minor league journeyman Hector Gimenez. Gimenez has had 20 at-bats in his major league career, so I won't even bother trying to project or predict what kind of major league player he will be. With the unknown of Gimenez however I would expect Flowers to get a lot of playing time similar to the way A.J. Pierzynski hogged the playing time at catcher when he was in his prime years. The Sox really didn't make much of an effort to upgrade at catcher despite options being available and options that continue to be available.
Grade: C
The Sox infield continues to stay static with team Captain and face of the franchise Paul Konerko manning first base, youngster Gordan Beckham taking second, and the Cuban Missile, Alexei Ramirez, at shortstop. This infield has been the same since Beckham became a regular in 2010. So this is no surprise. However, third base is in flux. Rick Hahn intends to give Brent Morel every chance to win back the third base job after he lost it last season due to poor production at the plate, though Hahn will claim it was due to his back injury. Three different men occupied third base last year: Morel, Orlando Hudson, and Kevin Youkilis. In order to try to stabilize the position should Morel bust again, Hahn added utility-man Jeff Keppinger who can spell any infield position to backup both Morel and Beckham. Though I do not see Beckham having a breakout year, ever, I can see Morel significantly improving this year. Or at least one can hope. Fans should be glad that Hahn did address the third base issue in some way by adding Keppinger, so that is a plus as well. Let's also not forget the Big Donkey, Adam Dunn, who should continue to build on his success from last year. I expect his numbers to stay relatively the same considering he is the epitome of an all-or-nothing hitter.
Grade: B
The White Sox outfield is full of familiar faces in 2013 as well, with all three starters returning to the lineup in 2013. Dayan Viciedo will man left, speedster Alejandro De Aza will be in centerfield, and Alex Rios will patrol right. Though this outfield isn't exactly suited for its defensive abilities it will be a force to be reckoned with on offense. If Alex Rios can repeat last year's success and Viciedo can learn some plate discipline, the White Sox lineup will continue to be one of the AL Central's best. However, there is still a battle to be won in the Sox outfield. Who will be the fourth outfielder? Currently the battle looks to be between the veteran, DeWayne Wise, and the youngster, Jordan Danks. Wise seems to be the favorite as he has continued to fight for a major league job throughout his career, but the Sox should really look at giving Danks an opportunity this season because he has more of a future with the team than Wise when you consider age instead of production. The Sox really didn't need to address this position in the offseason as it is fine where it is as of now.
Grade: B+
As spring training comes nearer and nearer, we as baseball fans get more excited to see the position battles, the drama, and heroics of our favorite teams.  The way the White Sox lineup looks now, I am not to worried about the team producing runs, I am more worried about the consistency of the run production as the players we have now are know to be streaky, however a new season brings new trends, and maybe that is a trend that won't continue into this year. For now though, let's all just look forward to that beautiful fresh-cut grass.
As always, come join the conversation in the White Sox forum: https://www.chicitysports.com/forum/forumdisplay.php/8-Chicago-White-Sox-Forum
For More Great Chicago Sports Content
Follow us on Twitter at @chicitysports23 for more great content. We appreciate you taking time to read our articles. To interact more with our community and keep up to date on the latest in Chicago sports news, JOIN OUR FREE FACEBOOK GROUP by CLICKING HERE