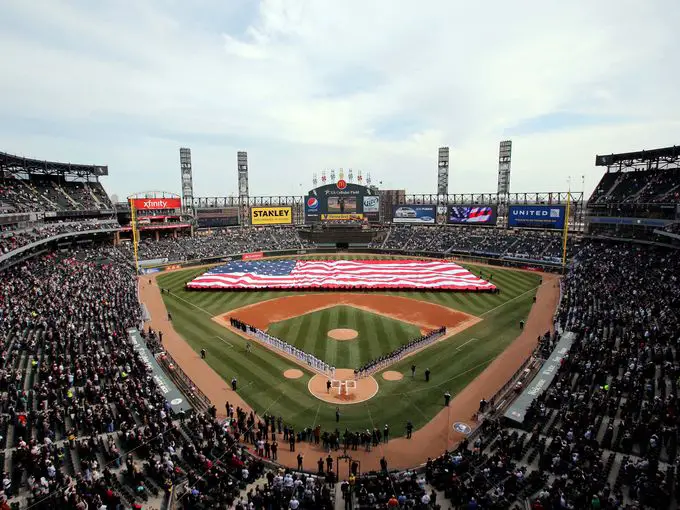 (Photo: Jerry Lai, USA TODAY Sports)
So, it's been a week since Opening Day and I have a lot on my mind.. like how I want to try the new Comiskey waffle sandwich & bacon on a stick, or wondering when Ken Harrelson is going to throw someone out of the broadcast booth. But here are my main thoughts from the first week.
Add your takeaways  in the comment section!
—
I get this is a "rebuilding year"… but rebuilding a team doesn't sell tickets. Paul Konerko sells tickets, but you'll be lucky if he plays. Crosstown Classic sells tickets, but that's only two home games. Hell, Star Wars Day sells tickets, but I can't find it on this season's calendar!
I understand that Rick Hahn and Robin Ventura see this year as a mega revamp of last season's runaway O'Hare Blue Line train, but the more they use the crutch of "this is our rebuilding year" when things go bad, the less I want to invest in that season ticket plan.
Who am I kidding, I'll invest no matter what because I'm a die-hard, but I can't say the same for everyone else. You call it a "rebuilding year", they head for the hills. But if you call it "a new face of White Sox baseball", well, then you might have something marketable that could fill stands.
—
On the topic of selling tickets, was anyone else peeved when the empty stadium went viral on Twitter? For those of you who missed it, the 4/2 and 4/3 games with a 1:10pm start brought in a VERY small crowd. Some guy posted a picture of the stadium and it generated a lot of Southside-hating comments. Most normal people are working at that time, plus it was nearly below freezing, so I understand why people weren't there. I'm not really angry about the picture, but the troll comments from Sox-haters were anything but classy.
Well, what are ya gonna do? Haters gonna hate.
—
What the heck is going on in the bullpen? I don't really think I need to elaborate much on this one. A hats-off to Chris Sale and John Danks, but the pitching staff as a whole has allowed 68 hits, 35 earned runs, and 31 walks in the past 7 games…
—
I'm liking the new guys. Abreu and Eaton are solid additions. Abreu still needs to get comfortable at 1st base, but that will come. And Eaton just brings a new energy to the dugout that I really admire—with all those old guys, it's a much needed breath of fresh air.
—
I feel like I'm jinxing it by just saying it, but the bats are looking pretty great. Well, except for last night that is. But generally speaking for the week, whenever a pitcher dug a hole, the batting order fought tooth and nail to fill the hole, plus add some more on top. This is such an amazing turn from last season, where you knew the moment the Sox fell behind that they probably wouldn't come back. I have a good feeling about offensive power this season—seeing a week of bats battling back to save lousy pitching is nothing but a good sign in that regard.
—
What are your thoughts in this first week of gameplay? Did you get your free April tickets by taking those White Sox surveys?
For More Great Chicago Sports Content
Follow us on Twitter at @chicitysports23 for more great content. We appreciate you taking time to read our articles. To interact more with our community and keep up to date on the latest in Chicago sports news, JOIN OUR FREE FACEBOOK GROUP by CLICKING HERE