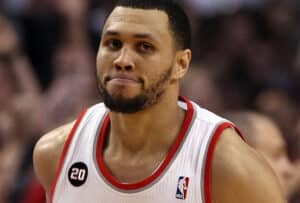 Much has been made over the past week about the Chicago Bulls perceived interest in soon-to-be free agent, and likely amnesty clause victim, Brandon Roy.
While there is a multitude of reasons to be excited about a potential Roy acquisition, provided the Portland Trailblazers use their amnesty clause on the 27-year-old, there is much to be worried about including some glaring warning signs.
Royis considered a likely amnesty clause victim due to concerns over his knees as well as his monster contract, which will net Roy over $47 million in the next three years as well as a $19 million team option in 2014-15.
The most glaring reason the once potential superstar is likely to be cut is concerns of his future as a viable NBA player.
Simply put, the Brandon Roy of old is gone.
The near-unanimous rookie of the year, the three-time NBA All-Star, the man who averaged 21.6 points-per-game from 2007-10, that Roy is gone. More importantly, that Roy had cartilage. That Roy had explosiveness, athleticism and speed.
The current Roy is a shell of his former self.
The current Roy is fresh off two straight seasons hampered by severe knee injuries and a seemingly unknown future.
In 2010, Roy missed a number of games with what was later discovered as a meniscus tear. Roy was ruled out of the first round of the NBA playoffs, but after a rushed eight days of recovery Roy returned to Portland for Game 4 of their playoff series.
Last season, Brandon Roy was shut down by Portland with concerns over his knees. This was not a surprise to most NBA followers as Roy had struggled with his knees in college, due to Roy's lack of cartilage.
Roy was shut down and arthroscopic surgery was performed on both knees. Roy returned quickly but soon found himself without the explosiveness and athleticism that made him a star.
Roy had career-low averages across the board (12.2 points per game and 2.6 rebounds per game).
Come playoff time the 27-year-old Oregon-resident was noticeably frustrated when he was the last man off the Trailblazers' bench in the first two games of their playoff series against the eventual champion Dallas Mavericks.
Brandon Roy scores 18 points in Blazer's 4th quarter comeback
Roy exploded for 16 points in 23 minutes during Game 4 of the series leading Portland from behind to tie the series at two games apiece.
While the Game 4 performance no doubt shows that Brandon Roy still has the ability for great games, that is not something the Chicago Bulls should look for.
Brandon Roy at this point in his NBA career, with an injury that many believe will limit his ability to return to All-Star form, is a reclamation project.
Yes, the upside of a Brandon Roy recovery and eventual return to form is tremendous. The value a rejuvenated, healthy Roy would give to any team is profound. Struggling teams throughout the league could have a tremendous boost for a well-valued Roy.
The Chicago Bulls simply cannot afford a risk/reward project at this time, especially one with such a frightening injury possibility.
Seemingly a few pieces away from an NBA Championship, Chicago needs to be looking for sure things. The upside of Roy is tremendous, but so is the risk.
With only a small amount of wiggle room under the salary cap Chicago needs to find a sure thing this offseason, a perfectly measured piece of the puzzle to allow them to build off the momentum of the NBA's best record last season.
Many have doubted Roy's ability to regain anywhere near the form that made him a superstar, and while anything is possible, the Chicago Bulls do not need to be the home of any reclamation projects in 2011-12.
For More Great Chicago Sports Content
Follow us on Twitter at @chicitysports23 for more great content. We appreciate you taking time to read our articles. To interact more with our community and keep up to date on the latest in Chicago sports news, JOIN OUR FREE FACEBOOK GROUP by CLICKING HERE