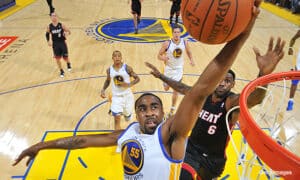 With Caron Butler now officially out of the picture as the Chicago Bulls hunt for a starting shooting guard, the attention seems to have turned to a number of different players, among them Jason Richardson and Vince Carter.
One player receiving some of the Bulls' attention but very little of the media's attention is Reggie Williams.
Williams, a restricted free agent guard/forward from the Golden State Warriors,has reportedly received interested from the Orlando Magic, Charlotte Bobcats,Denver Nuggets, San Antonio Spurs and the Chicago Bulls.
The prospect of Williams on the Chicago Bulls, while not the blockbuster free-agent signing Bulls fans may be looking for, is still very interesting for a number of reasons.
Initially, his youth is an intriguing asset as Williams will open the 2011-12 season at only 25 years of age. Compare that to other rumored Bulls targets Jason Richardson (30 years old), Vince Carter (34 years old), Josh Howard (31 years old) and even Arron Afflalo (26 years old).
The idea that Williams has room to grow as a player is something that should be an asset to a Bulls team, currently in a four to five-year championship window.
Offensively, Williams averaged 15.2 points per game in his rookie campaign, playing in 24 games with the Warriors in 2009-10.
Last year, while his points decreased to 9.2 points per game, the Virginia native was more efficient offensively, raising his three-point percentage from 35 percent to a stellar 42 percent.
Williams, like most Warriors, does not have stellar defensive numbers, but a change of scenery from the Golden State Warriors' former wide-open system to a more rigid defensive squad headed by Tom Thibodeau could turn things around for Williams.
At 6'6" Williams has the size and speed to guard both small forwards and shooting guards, so a commitment on the defense end can certainly make him an asset.
Williams also struggles getting to the free-throw line, shooting only 1.3 free throws per game last year, a number that will have to increase if he came to the Bulls.
This is something that should develop over time as Williams has the length and agility to fly to the basket and finish strong.
Williams finds himself at a crossroads in his career with the Warriors, who have rookie swingman and first-round pick Klay Thompson waiting in the wings.
As a restricted free agent, the Warriors can match any offer sheet sent to Williams but have little reason to do so.
It is not out of the realm of possibility that the Bulls could grab Williams around the $3 million mark, which could be a great value for the young Williams.
Jason Richardson should be target No. 1 for the Chicago Bulls' shooting guard search. However, Williams as a Plan B or C is definitely an intriguing possibility.
For More Great Chicago Sports Content
Follow us on Twitter at @chicitysports23 for more great content. We appreciate you taking time to read our articles. To interact more with our community and keep up to date on the latest in Chicago sports news, JOIN OUR FREE FACEBOOK GROUP by CLICKING HERE