The Chicago Bears will be busy this week
The Chicago Bears came into the offseason with the number one overall draft pick and nearly $100 million in cap space for the 2023 offseason. Friday's afternoon news dump changed so much for next fall in Chicago. The Bears no longer have the number-one pick in April.
Instead, the Bears received a massive haul from the Carolina Panthers. The trade included wide receiver D.J. Moore. While Moore will bring a true number-one wide receiver to the Bears, the 25-year-old's services will not be cheap. The Bears' outlook for next season has changed ahead of the free agency signing period starting Wednesday.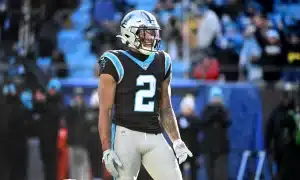 According to Over The Cap, as of Sunday night, the Bears have $75.245 million in cap space. The Bears had over $100 million in late February when they cut defensive end, Al-Quadin Muhammad. However, the Bears re-signed a few players this offseason and traded for Moore, bringing the number down by 25 percent. About 20 percent of that $100 million cap cushion went to Moore. Moore's cap hit next season will be over $20 million in 2023.
The Chicago Bears are banking on Moore to be a solid contributor next season. General manager Ryan Poles opted to take a risk on the former first-round pick to get back north of the 1,000-yard receiving mark he missed in 2022 over taking a worse option in free agency or gambling on a first-round wide receiver to fill that role.
I think Friday's trade was the best move Poles has made since he's been in Chicago, and the extra picks will act as a fail-safe for the Bears if Justin Fields can't show progress with a solid wide receiver corps and likely upgraded offensive line. (This isn't to say the Bears shouldn't take a wide receiver in the first round should Jaxon Smith-Njigba or another elite playmaker be the best player on the Bears draft board.)
Free agent options for the Bears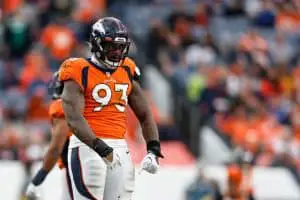 The Chicago Bears still have many holes to fill with their $75 million. They will have nearly $12 million more to bid with in free agency than the next team, the Atlanta Falcons. One of those spots could be at running back, as the Bears aren't likely going to sign David Montgomery before Wednesday. However, the Bears might do better to draft the running back or linebacker position.
The more critical positions the Bears must take care of in the next few days and months are in the trenches. The Bears need to add at least one starting tackle, and a couple of interior offensive linemen. The defensive line could use an upgrade at every position. Here are a few intriguing names that Bears fans will need to keep an eye on this week:
For More Great Chicago Sports Content
Follow us on Twitter at @chicitysports23 for more great content. We appreciate you taking time to read our articles. To interact more with our community and keep up to date on the latest in Chicago sports news, JOIN OUR FREE FACEBOOK GROUP by CLICKING HERE